Minuteman Product Selection Guides
Selecting power protection and management products is easy with Minuteman's lineup of selection guides. SizeMyUPS.com, SizeMyPDU.com, and CompareMyUPS.com are an excellent resource for selecting uninterruptible power supplies (battery backups), and power distribution units (PDUs) for your specific application.
Click the links below to begin selecting the perfect solution for your power protection or management needs.

---
SizeMyUPS Battery Backup Selection Guide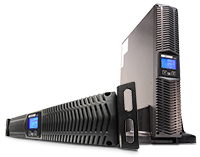 Take the guesswork out of UPS sizing with this straightforward UPS selection tool, making use of a vast database of commonly used equipment along with a simple to use interface to provide you with the proper uninterruptible power supply solution for your needs.

Build your system by first choosing your equipment including telephone systems, servers, switches, routers, DVRs, cameras, access control systems and more from hundreds of manufacturers. Once your system is configured, select voltages, runtime, and growth to receive a list of solutions.

---
SizeMyPDU Power Distribution Unit Selection Guide
Find the perfect Minuteman PDU for your application with this simple to use PDU selection tool. Simply select PDU type, format, and input type to receive a list of solutions that will meet your needs.

A wide selection of models are available in horizontal or vertical formats. Select from 15, 20, or 30 amps inputs, optional locking plugs, along with models featuring amp meters or surge protection.

---
CompareMyUPS UPS Cross Reference Guide
Cross referencing competitors' UPS models to Minuteman solutions is easy with this simple interactive guide. Simply choose a manufacturer and model below to see a list of similar UPS models. Links to complete specifications and a PDF brochure are given for each model to allow for a full comparison with the competing product.

Choose from 10 manufacturers including Alpha Technologies, APC, Belkin, CyberPower, DirectUPS, Liebert, MGE, Powerware, Radian, and TrippLite models to see what Minuteman UPS solution is ideal for your application.

---